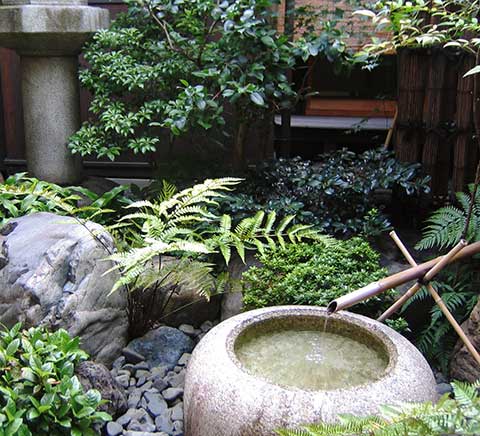 Finally managing to get out of Saijo for a few days of travel before returning stateside, we spent a few days in the old Japanese capital of Kyoto. We split our stay between a fairly expensive (for our budget) traditional ryokan, and a very inexpensive (by Japan standards) guest house. I'd expected a pretty wide gap in terms of quality of service and accommodations between the two, so I was very pleasantly surprised when the latter very nearly matched the former in terms of overall quality of experience.
Our first two nights were at the Nunoya Ryokan, near Marutamachi. A ryokan is a traditional Japanese inn, offering tatami-mat rooms and typically serving one or more meals in-house. Nunoya has two guest rooms, serves a full Japanese breakfast each morning, and offers a luxurious (albeit not very large) wooden bath that couples can enjoy together in the evening.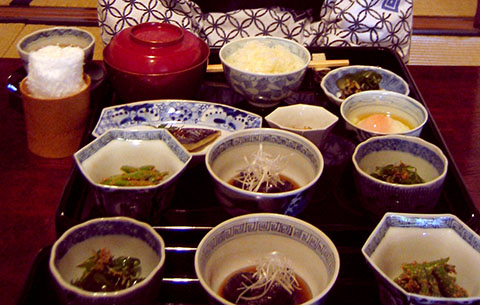 The thing about ryokan is that you're there more for the "authentic" experience than for what most westerners might consider luxurious accommodations. To be sure, the service is impeccably professional and polite, and the premises clean and well-maintained. However, some might be surprised at the lack of a private bathroom (it's typically down the hall or stairs) and the spartan furnishings in the guest rooms–no TVs or mini-bars to be found here. I've been to several ryokan and consider myself pretty used to the way they work, but even I had to stifle a "whaaaaa?" when our host informed us that breakfast would be served at 8:30 sharp. Oh, and don't forget to make an appointment time for the (shared) evening bath, so that they can ensure that the water is the proper temperature and keep different groups of guests from accidentally walking in on one another.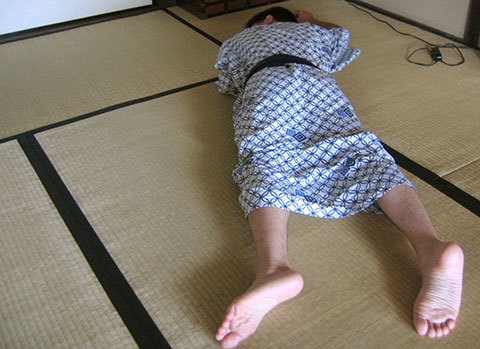 To be sure, we did enjoy a pleasant and relaxing couple of nights at Nunoya. The ryokan takes up most of the owner's family home, a beautifully maintained machiya on a quiet residential street not far from one of Kyoto's main throughfares. A machiya is an old style Japanese house, typically two stories with a relatively narrow entrance facing the street and extending far back into the lot, often with a small enclosed garden near the center. Actually, the owner and his parents still live in the house, as evidenced by various small signs found throughout, such as "Guests please don't open this door, my parents sometimes use this bathroom". We particularly enjoyed the deep wooden bath, which infused the water with a cedar scent and came to us as total luxury compared to our previous facilities.
Since Nunoya's ¥13,650 per night price was a bit much for our current budget, we spent the remaining three nights at a guest house that we found through another ryokan's website. The Uronza Guest House, near Shijo-Horikawa, turned out to be quite a nice alternative to our more expensive accommodations, doing away with luxuries like air conditioning and an on-site bath while keeping every bit of the machiya charm at less than a third of the price.
To be honest, I went to Uronza expecting a mosquito-infested youth hostel and ended up being pleasantly surprised in every respect. Like Ninoya, Uronza is also housed in an old Kyoto machiya. The upper level has been recently remodeled, adding a nice terrace and outdoor wash area overlooking the enclosed garden. Everyone pays the same individual rate of ¥2200 (less for multiple nights–see the website) and receives semi-private accommodations that vary based on how many people are staying that night. We ended up with our own room, which was separated from an adjoining room by a not-totally-opaque bamboo screen. There are three bathrooms and two showers, which when the house is maxed out at sixteen guests might get a bit competitive but was no problem at all during our stay. There's also a kitchen for guests to use (clean up after yourself), a tea room, a shared refrigerator, and even a washing machine that can be used for a small fee.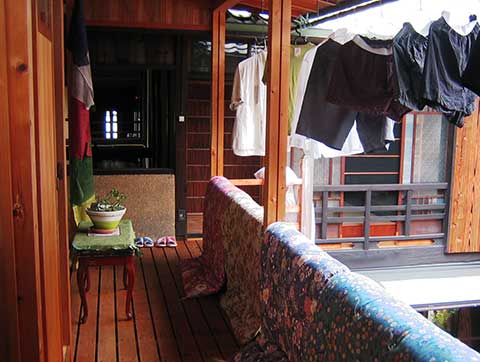 While the ryokan tended to put more emphasis on privacy, at Uronza we had several opportunities to interact with the other guests. We met one young woman from Germany who was in the middle of a three-month marathon tour of Japan and thought Uronza was one of her greatest accommodation finds yet, in constrast to some of the less refined hostels she'd stayed at until then. We also met one other German guy who chatted with us briefly but seemed much more interested in the local ladies, which whom he appeared to be quite popular.
Overall, I enjoyed our stays at both places, but Uronza definitely has an advantage in terms of value. I just hope they manage to maintain their high level of quality as more and more people discover what they have to offer.
Verdict on Nunoya Ryokan: a nice place to stay if it's within your budget, and very competitive compared to other ryokan options in the area. However, those not accustomed to the somewhat strict way in which ryokan (particularly this one) "manage" their guests' stays may find the system unnecessarily constraining. Also, I don't think the proprietor speaks much English.
Verdict on the Uronza Guesthouse: Outstanding. For a fraction of the price of a ryokan, you are able to stay in an authentic and well-maintained Kyoto machiya with ample accommodations (but no air conditioning) and a variety of support facilities. The premises are conducive to social interaction between the guests and the management was pleasant. There are English signs, and at least some of the management seems to be able to communicate in English.