Despite my best efforts to take advantage of staying in downtown Osaka that first night, I wasn't ultimately able to make it much past 9:00 before turning in. I was up early the next morning though, during which time I was able to take a quiet walk through the neighborhood before the oppressive heat and crowds set in. The bus ride from Osaka to Saijo City took about five and a half hours and would almost have been pleasant had it not been for two kindergarten-age sisters sharing a seat next to their entirely oblivious and/or incompetent mother, shrieking and singing and fighting and babbling for the whole trip.
Saijo is located in Ehime Prefecture, on the island of Shikoku, itself off the southern coast of the main island. There are a lot of rice fields and waterways here, owing to the plentiful natural springs that provide cool, clear water even in the heat of summer. The water is so good that Asahi Beer has a major plant here, and decorative fountains adorn the downtown sidewalks, from which people fill up jugs to use at home.
I spent the first couple of days acclimating myself to the weather and to life in the countryside. Before my first visit to Japan more than ten years ago, like many people I'd envisioned Japan as one big futuristic techno-metropolis straight out of Blade Runner, complete with robot housekeepers and flying taxis. The reality is, however, that outside the huge cities like Tokyo and Osaka (and even within them to a large extent), Japan can be surprisingly quaint.
Take, for example, my father in law's one room apartment (ok, technically it's two rooms, but I count the second room as more of a walk-in closet). There's a little toilet-sized room for, well, the toilet, but there's no shower or bathtub. When I want to take a bath, I need to pack up a change of clothes and a shower kit, get on a bicycle, pedal a couple kilometers down the highway to the public bath, pay about four bucks, and take a bath in a big room with ten to forty other guys depending on the time of day. Now to be fair, bathing in Japan is a much bigger deal than us Americans' quick showers, and the variety of bathing options I have at the bath house is impressive (sit-down shower stall, big hot bath, big hot bath with bubbles, big hot bath with jets that I can lie down in, outside terrace bath, stand-up outside shower, etc.). But there's just something I can't shake about my Western sensibilities that throws up red flags at the idea of having to get on a bicycle as part of the bathing process. That and the idea of taking a bath together with a bunch of other dudes. But they don't seem to mind so I've gotten over that at least.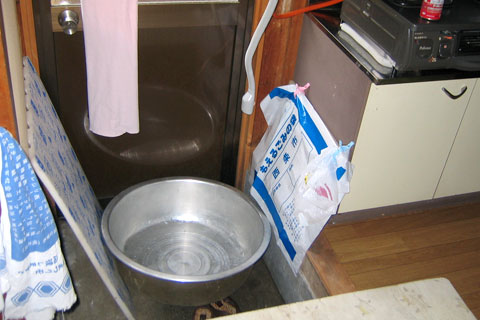 Finding this process to be a bit much on a daily basis, Nana and I have managed to improvise a substitute bathing method that involves the apartment's back entranceway, the kitchen water heater, and a large laundry tub. I posted a picture of the setup but I'll leave the rest to the imagination.