I'm pretty sure it was Mt. Fuji that I saw poking through the clouds shortly after our plane came within sight of land after our trans-Pacific crossing. Unfortunately I had nobody to point it out to at the time, since my wife had come to Japan about a month earlier due to a family health emergency, leaving me to make the trip on my own. As much as I enjoy traveling alone from time to time, there's something sad about seeing something so majestic but not having anyone to share it with.
Rather than embarking on the 14-hour marathon of taking the all-night ferry to Nana's home island directly from the airport, I opted to spend a night in Osaka. It's been a few years since I've spent any amount of time in Japan by myself, and I was looking forward to poking around the downtown Umeda district that evening. Upon clearing customs and immigration at Kansai International (remarkably quickly compared to what I'm used to at Tokyo's Narita airport) I headed for the airport's JR train station.
Although it had only been about a year and a half since my last trip to Japan, I felt like I'd suddenly forgotten all my Japanese as I struggled with the automated train ticket machine. I'd even made a shameful attempt to use the special English version machine over in the corner before realizing that Japan had issued new currency in the last year, and that the leftover bills I was trying to use weren't being accepted. A quick trip to the station office cleared that up, and I was on my way for the one-hour trip into Osaka.
Japan has a certain smell. I can't say that it's necessarily a bad smell, but it's not something you'd want to bottle up and spray around your house either. I tend to associate it with the sidewalks and underground train stations; maybe it's something in the industrial cleaning materials they use. At any rate, that was the first thing I noticed at the train station. The second thing I noticed as I watched the passing scenery through the train window was the amount of graffiti on the walls—apparently that part of western "street culture" has inevitably landed on these shores right along with bleached hair and baggy pants.
Getting from JR Osaka station to my hotel with two people's worth of luggage (lightly packed, but still…) turned out to be quite a sweaty challenge. I'd printed out a map from the hotel that described the route as a 10-minute walk, entirely underground; what I'd not taken into consideration, however, was the fact that I was coming into Osaka at the beginning of the evening rush hour. The 30 or so minutes from getting off the train to arriving at the hotel consisted of an iterative process of pulling my luggage against a constant onslaught of commuters, several of whom tripped over my rollaboard (which might as well be invisible beneath the heaving sea of bodies), craning my neck in search of the next sign or landmark (one of which was a shopping arcade called "Whitey Town"), pulling out of the way to look at my map, cursing, backtracking, and so on.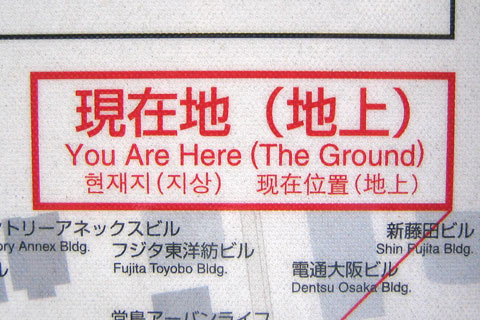 By the time I finally emerged from the labyrinth at the Umeda OS Hotel, I was soaked with perspiration and had little bits of slow moving old ladies and small children caught in my luggage wheels. Thanks to my room's compact size I was almost able to step directly into the shower from the front door, which was fine by me.
(Verdict on the Umeda OS Hotel: Not bad for central Osaka (Umeda) at Y8600 a night; typically small business hotel rooms, some English spoken at the desk, lots of foreigners due to listing in Lonely Planet, great central location for urban signtseeing, shopping, and nightlife. I recommend taking an airport bus to the nearby Hilton and walking from there instead of trying to do what I did by taking JR.)