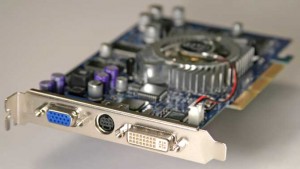 I recently upgraded to a shiny new graphics card (NVIDIA 7900 GT) and was bummed when the DVI connection on my ViewSonic VA2012wb LCD monitor couldn't detect a signal from it and just stayed in standby mode. At first I thought the card was just dead, until I tried using the DVI to D-Sub (analog VGA) adapter to send the monitor an analog signal, which worked fine. This mystified me, since the card and physical port were apparently working, but refusing to output a DVI signal. I'd just unplugged the monitor from my old DVI card, so I figured the monitor wasn't the problem. Turns out the monitor was indeed (partially) the culprit.
I contacted support at XFX (the graphics card maker) and they recommended the usual (check connections, update motherboard bios, Windows drivers, etc.) but ended up advising me to return the card. Newegg, as usual, was great with their RMA support. Unfortunately, I experienced the exact same problem with the replacement card!
I eventually found the solution in some threads on the Anandtech and [H]ard|OCP message boards. It turns out that there's a common problem with NVIDIA cards and many of ViewSonic's 20″ widescreen monitors (most commonly the VX2025 but with mine as well), in which the monitor's EDID settings get "stuck" into a state in which a DVI signal can't wake the unit from standby mode. There are two possible solutions. The first, which worked for me, is to take the following steps:
Connect both DVI and D-Sub when the computer and monitor are turned on
Turn off the computer
Disconnect the D-Sub, leaving the DVI in place
Unplug the monitor's power for at least 5 seconds
Power the computer back on
When I did this, suddenly my monitor recognized the DVI signal and I got a nice digital picture. Another approach, which seems to have worked for a lot of people, is to use a utility called DVI Recover. I'm not sure where that program came from and can't vouch for its safety or effectiveness, but from reading the message threads it sounds like it's helped quite a few people.
Anyway, I was pretty frustrated with this problem at first and wasn't finding much through general Google searches, so I hope this post helps someone in a similar situation. And ViewSonic definitely needs to get their act together and fix this problem!
Helpful threads: